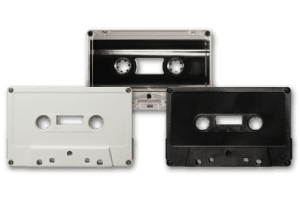 831 Instant-Record Tabs-In Cassettes
BUY 10 TO 100 CARTONS*, SAVE $2.00 PER CARTON
Discount will apply at checkout
CUSTOM TAPE LENGTHS ARE AVAILABLE
Any play time from C-1 to C-110
100 CASSETTES PER CARTON
Sold in tray quantities only
*FOR ORDERS MORE THAN 2500 CASSETTES, CALL FOR SHIPPING OPTIONS.
Starting at $0.52 per Cassette
Starting at $52.00 per Carton
Description
Additional information
Description
We offer ONLY tabs-in cassettes in the 831 line because your recording devices will require tabs-in.
The length of the tape refers to the full recordable time on both sides of the tape. For instance, a C-60 cassette has 30 minutes of record time on each side.
Custom tape lengths are available, any play time from
C-1 to C-110.
100 per Carton Sold in tray quantities only.
Tape colors may be mixed to obtain 1,000-piece pricing.

 
Additional information
| | |
| --- | --- |
| Weight | 9 lbs |
| Dimensions | 4 x 0.59 x 2.5 in |
| Tape Length | 1 Min. [30 Sec/Side], 2 Min. [1 Min/Side], 3 Min. [1.5 Min/Side], 4 Min. [2 Min/Side], 5 Min. [2.5 Min/Side], 6 Min. [3 Min/side], 7 Min. [3.5 Min/Side], 8 Min. [4 Min/Side], 9 Min [4.5 Min/Side], 10 Min. [5 Min/Side], 11 Min. [5.5 Min/Side], 12 Min. [6 Min/Side], 13 Min. [6.5 Min/Side], 14 Min. [7 Min/Side], 15 Min. [7.5 Min/Side], 16 Min. [8 Min/Side], 17 Min. [8.5 Min/Side], 18 Min. [9 Min/Side], 19 Min. [9.5 Min/Side], 20 Min. [10 Min/Side], 21 Min. [10.5 Min/Side], 22 Min. [11 Min/Side], 23 Min. [11.5 Min/Side], 24 Min. [12 Min/Side], 25 Min. [12.5 Min/Side], 26 Min. [13 Min/Side], 27 Min. [13.5 Min/Side], 28 Min. [14 Min/Side], 29 Min. [14.5 Min/Side], 30 Min. [15 Min/Side], 31 Min. [15.5 Min/Side], 32 Min. [16 Min/Side], 33 Min. [16.5 Min/Side], 34 Min. [17 Min/Side], 35 Min. [17.5 Min/Side], 36 Min. [18 Min/Side], 37 Min. [18.5 Min/Side], 38 Min. [19 Min/Side], 39 Min. [19.5 Min/Side], 40 Min. [20 Min/Side], 41 Min. [20.5 Min/Side], 42 Min. [21 Min/Side], 43 Min. [21.5 Min/Side], 44 Min. [22 Min/Side], 45 Min. [22.5 Min/Side], 46 Min. [23 Min/Side], 47 Min. [23.5 Min/Side], 48 Min. [24 Min/Side], 49 Min. [24.5 Min/Side], 50 Min. [25 Min/Side], 51 Min. [25.5 Min/Side], 52 Min. [26 Min/Side], 53 Min. [26.5 Min/Side], 54 Min. [27 Min/Side], 55 Min. [27.5 Min/Side], 56 Min. [28 Min/Side], 57 Min. [28.5 Min/Side], 58 Min. [29 Min/Side], 59 Min. [29.5 Min/Side], 60 Min. [30 Min/Side], 61 Min. [30.5 Min/Side], 62 Min. [31 Min/Side], 63 Min. [31.5 Min/Side], 64 Min. [32 Min/Side], 65 Min. [32.5 Min/Side], 66 Min. [33 Min/Side], 67 Min. [33.5 Min/Side], 68 Min. [34 Min/Side], 69 Min. [34.5 Min/Side], 70 Min. [35 Min/Side], 71 Min. [35.5 Min/Side], 72 Min. [36 Min/Side], 73 Min. [36.5 Min/Side], 74 Min. [37 Min/Side], 75 Min. [37.5 Min/Side], 76 Min. [38 Min/Side], 77 Min. [38.5 Min/Side], 78 Min. [39 Min/Side], 79 Min. [39.5 Min/Side], 80 Min. [40 Min/Side], 81 Min. [40.5 Min/Side], 82 Min. [41 Min/Side], 83 Min. [41.5 Min/Side], 84 Min. [42 Min/Side], 85 Min. [42.5 Min/Side], 86 Min. [43 Min/Side], 87 Min. [43.5 Min/Side], 88 Min. [44 Min/Side], 89 Min. [44.5 Min/Side], 90 Min. [45 Min/Side], 91 Min. [45.5 Min/Side], 92 Min. [46 Min/Side], 93 Min. [46.5 Min/Side], 94 Min. [47 Min/Side], 95 Min. [47.5 Min/Side], 96 Min. [48 Min/Side], 97 Min. [48.5 Min/Side], 98 Min. [49 Min/Side], 99 Min. [49.5 Min/Side], 100 Min. [50 Min/Side], 101 Min. [50.5 Min/Side], 102 Min. [51 Min/Side], 103 Min. [51.5 Min/Side], 104 Min. [52 Min/Side], 105 Min. [52.5 Min/Side], 106 Min. [53 Min/Side], 107 Min. [53.5 Min/Side], 108 Min. [54 Min/Side], 109 Min. [54.5 Min/Side], 110 Min. [55 Min/Side] |
| Shell Color | Black, White, Clear w/Black Liner |