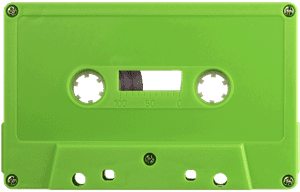 Lime Green C456 Tabs-Out Audio Cassette (Carton of 100)
Loaded with FerroMaster C456™ Super Ferric, Ultra-high performance Type-1 music grade tape.
Choose any play time from 1 to 64 minutes.
100 Cassettes per carton.
Sold in carton quantities only. For orders of 25 cartons or more, call Customer Service for shipping options.
Starting at $57.00 per Carton