The templates here are to be used to place your artwork for imprinting cassette shells. Choose the correct template for the software you are using. Adobe Illustrator and Photoshop are the recommended applications. See the Guidelines pages for details about inserting your artwork into the template and sending the files with your cassette order.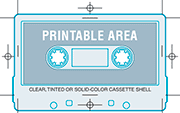 Since most of our shells have a common printable area, we are standardizing on the use of ONE UNIVERSAL template. Use this Template for imprint art whether you have chosen a solid color, clear or tinted shell.
The drawing to the left shows how the imprintable area falls on the cassette shell. A hidden layer in the template contains these shell edge lines. You may use it to visualize your design. Please leave hidden when submitting artwork.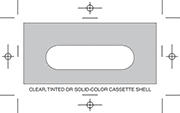 Click to download the appropriate template for the software you use.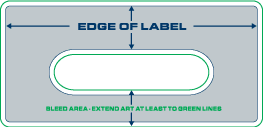 Use this template to lay out labels if your tape design requires multiple colors, very fine detail, or a large degree of ink coverage. PLEASE NOTE: that our label stock has changed, so the template is a little different in shape now. Please update the template you use.