FerroMaster Tapes


Feature National Audio's exclusive
MAGNE-SHEEN


Tape coating and finishing process
WHAT IS MAGNE-SHEEN?
It is the result of five years of research, testing and
experience in magnetic tape coating and finishing.
WHAT ARE THE BENEFITS OF MAGNE-SHEEN?
1. Higher output and flatter frequency response resulting from better tape contact with recording heads. Recording surface is compressed and polished in a two-stage, 6-roll calender applying a total 40,000 psi at 180 degree F.
2. No oxide shedding on recording heads. Better cross-linker binds oxide tightly to basefilm.
3. Reduced head wear-no abrasive coating.
4. Reduced print-through even at high input levels because of unparalleled oxide uniformity. Oxide coating is applied evenly on basefilm as it passes through two smoothing stations and magnetic particles are oriented by 9500 Gauss natural magnets before entering drying ovens.
WHAT MAGNE-SHEEN ISN'T
During the 1970s and 1980s, many tapes destined for the consumer market were made using oxides with poor magnetic qualities, irregular particle sizes, and ultra-thin coating thickness. It became a common practice to apply a glossy "sealer" to the recording surface to make the tape appear better than it was.
National Audio has never applied this glossy, deceptive coating to any of our tapes. All of National Audio's FerroMaster tapes are made with high quality, magnetically powerful oxide. Nothing else touches your heads.
YOU CAN'T SEE SUPERIOR SOUND QUALITY..YOU HEAR IT!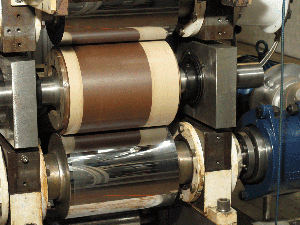 The first stage of calendering the tape