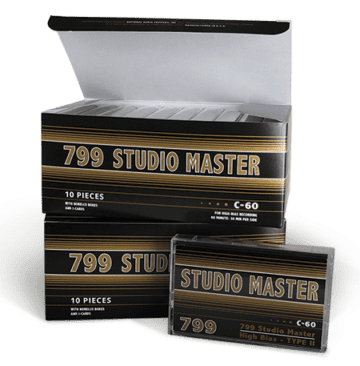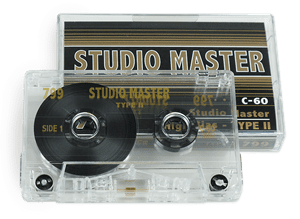 C799 Studio Master 60 Minute Type II Cobalt Packaged Cassettes
799 Studio Master 60 minute tapes, imprinted and packaged in boxes of 10.
• NAC's highest quality mastering cassette
• Smooth-running cassette housing
• Imprinted tape and traditional J-card
• Clear Norelco-style box
• Individually cello-wrapped with tear strip
• Packed in protective 10-pack box
• 10-pack box shrink-wrapped to prevent contamination.
Requires recording equipment with a high bias setting.
$42.70
Description
Additional information
Description
Featuring genuine high bias cobalt mastering tape. For the most demanding recording applications, Studio Master sets the gold standard in Type II performance. Cobalt oxide combines outstanding output and low distortion providing unmatched musical clarity. This high bias tape delivers up to 4db more output than earlier Type II tapes without saturation or distortion.
Specification is for +2 db over biasing at 6.3 kHz. 20 db below reference level.
Record Equalization — For optimum performance, record equalization should be set after biasing as the oxide in this tape responds somewhat differently due to its high performance characteristics. Sold in Cartons of 10.
The length of the tape refers to the full recordable time on both sides of the tape. A C-60 cassette has 30 minutes of recording time on each side.
Note: National Audio's Cobalt Type II tape, manufactured in Springfield, MO, has replaced chrome in our packaged 799 Studio Master cassettes because chrome tape can no longer be made because of environmental reasons.
Additional information
| | |
| --- | --- |
| Weight | 2 lbs |
| Dimensions | 9 × 5 × 7 in |