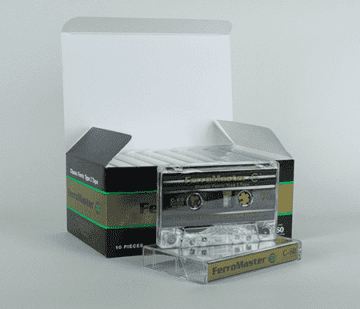 FerroMaster C256™ Type 1 90 Minute Cassette [45 Min/Side] 10 PACK
• Smooth-running cassette housing
• Imprinted tape, traditional J-card and identification label in box
• Clear Norelco-style box
• Individually cello-wrapped with tear strip
• Packed in protective 10-pack box
$39.50
Description
Additional information
Description
FerroMaster C256™ is manufactured in the U.S.A. by National Audio Company, Inc. It meets or exceeds all IEC type I specifications, and delivers the high output and frequency response demanded by today's music industry. This tape is a high-grade ferric tape that features a signal-to-noise ratio (head room) far surpassing any other ferric cassette tape while providing deep, mellow bass, warm mid-range, and crystal clear high frequencies. It is designed to be recorded at very high levels.
FerroMaster C256™ can be successfully recorded/duplicated on any equipment currently biased for type I tape and will almost certainly deliver higher output than any other normal bias tape whether recorded on real-time decks or high-speed open-reel duplicators. It is compatible with preset normal bias record and EQ in most cassette decks.
Tapes come 10 per carton, pre-packaged in Norelco-style plastic boxes.
$38.30 per pack of 10 tapes.
Additional information
| | |
| --- | --- |
| Weight | 3 lbs |
| Dimensions | 9 × 5 × 7 in |